Iams
Ready for the ultimate success story? Here it is.
The Iams Company was started in the '50s and almost ended in the '70s when founder Paul Iams decided to close the doors.  In an effort to save the company, employee Clay Mathile bought half the company for $100,000, and then proceeded to purchase the 2nd half.  The company stayed alive because it produced a good product and they did a lot of solid, grass-roots marketing.  But they continued to be a small niche product.  Most consumers were unaware of the brand and their distribution network consisted mainly of a rag-tag list of farm feed stores.  Despite being more expensive than other pet food brands the company's annual sales never exceeded more than $10 million.
Working at Doner advertising, we created the strategy. Position Iams as a serious pet food, sold only in specialty stores.  The goal was to convince people that if they really cared about their pet's health they should be willing to go the extra mile to feed it better food.  The company's main problem (the distribution network) was turned into an advantage.
The Results?
The ads were a huge success.  Not only did they win just about every advertising award possible, but they helped increase the company's annual sales to about $210 million by 1990.  By 1996, they topped $300 million. In 1997, Iams expanded into Europe and Asia.  Not only did this success fuel many copy-cat pet food lines, but it also helped create an entirely new distribution network of specialty pet food stores such as PetSmart and Pet Supplies Plus. We continued to handle the company's advertising until 1999, when Clay Mathile sold the Iams Company to Procter & Gamble for $2.3 billion.
PRINT ADVERTISING
During the era when pet foods like Chuck Wagon were reigning, we positioned Iams as the more serious pet food for owners who care.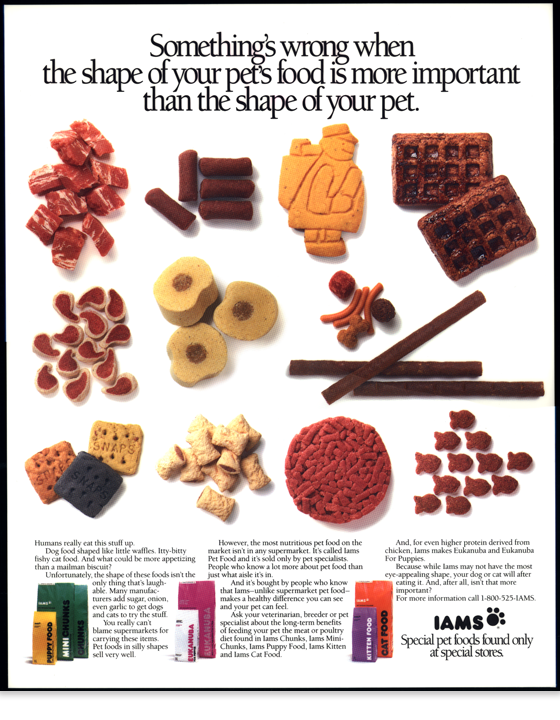 Long copy ads do a great job positioning a company as the authority on the subject. Here's how we did it for Iams.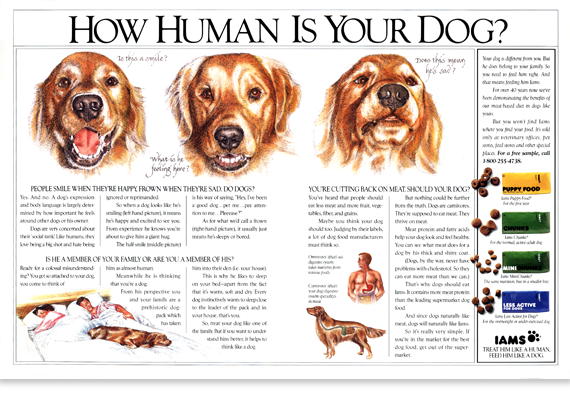 People began recognizing Iams by the color of the bag. Yellow = puppy. Purple = senior. We capitalized on this in the new campaign per product, and added an emotional mix with the copy and photography. We were lucky enough to shoot with legendary photographer Elliott Erwitt.